Beverage 2.0
Millennials and Gen Z are the world's most important demographics segments, collectively accounting for 54% of the global population, and Gen Z's economic power is fast-growing (already $7tn of income). In addition, the latter influential generation has experimented rapidly rising income, expected to increase to $17tn in 2025, $33tn in 2030 and to reach $70tn by 2040. Furthermore, the growing consumer power of Gen Z is set to increase further as the great wealth transfer from Baby Boomers and Silent generation, who own $78tn in the US alone, is about to begin.
Gen Z accounts for 2.5bn people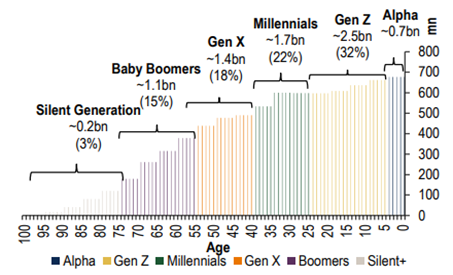 Global population (millions). Source: UN
Gen Z income to reach $70tn by 2040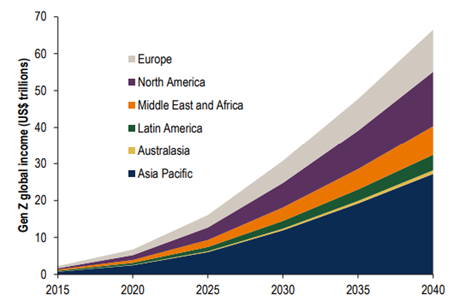 Source: Euromonitor

Since the wealth is progressively transferring to Millennials and Gen Z, companies have started analyzing their preferences in order to attract these customer segments.
For beverage companies, these preferences can be highly relevant since Gen Z is fast emerging as the next wave of legal age drinkers, with about 11,000 people in US turning 21 every day (source: US Census Bureau).
Compared to Millennials, Gen Z is not taking up drinking as much since over half of Gen Z does not consume alcohol at all versus a third of Millennials. Consequently, the alcoholic beverage industry may struggle to attract Gen Z to their current line of products.
Beverage industry needs to increasingly focus on providing products that are deemed healthier such as beverages with lower sugar and alcohol contents (for example low alcohol beers, hard seltzers to craft soft drinks and low-sugar cocktails).
How often do you drink alcohol per week? Global survey results, excluding the US with over 21 drinking age limit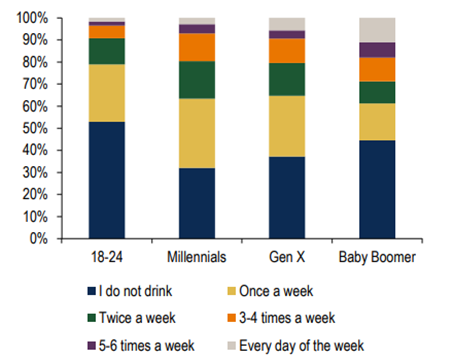 Alcohol use in the US in the past month for 12-20 years olds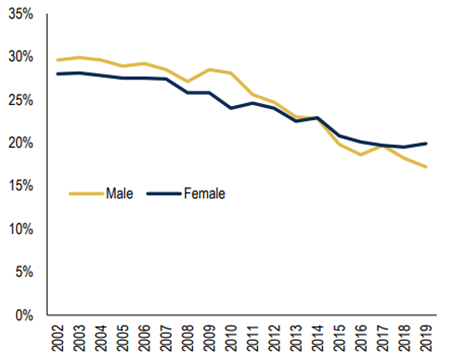 Source: BoFA Global Research

In addition to healthier products, Millennials' and Gen Z's are increasing demanding sustainable products:
75% of Millennials are eco-conscious to the point of changing their buying habits to favor environmentally friendly products (Nielsen data);
The majority of Gen Z prefers to buy sustainable brands, and most is willing to spend 10% more for sustainable products. Three-quarters of Gen Z consumers states that sustainability is more important to them than brand names (Bofa Global Research).
Therefore, sustainability has become one of the most important challenges for the beverage industry and many companies are taking significant actions to include environmental and social aspects at several stages of their production process and to create products that satisfy costumers' demand for more sustainable goods.
In this regard, many leading beverage companies are part of the BIER (Beverage Industry Environmental Roundtable), which is a technical coalition of leading global beverage companies working together to advance environmental sustainability within the beverage sector.
Beverage Sector Value Chain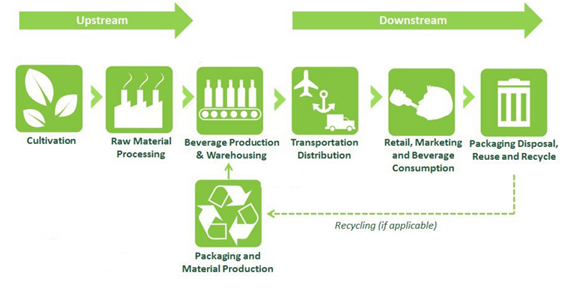 Source: Beverage Industry Environmental Roundtable
The most relevant material sustainable topics to be further developed for BIER are:
Energy management
Water management
Responsible drinking & marketing
Packaging lifecycle management
Environmental & social impacts of ingredients supply chain
Ingredient sourcing
Disclaimer:
Nothing in this document is intended as investment research or as a marketing communication, nor as a recommendation or suggestion, express or implied, with respect to an investment strategy concerning the financial instruments managed or issued by Eurizon Capital SGR S.p.A.. Neither is this document a solicitation or offer, investment, legal, tax or other advice.
The opinions, forecasts or estimates contained herein are made with reference only to the date of preparation, and there can be no assurance that results or any future events will be consistent with the opinions, forecasts or estimates contained herein. The information provided and opinions contained are based on sources believed to be reliable and in good faith. However, no representation or warranty, express or implied, is made by Eurizon Capital SGR S.p.A. as to the accuracy, completeness or fairness of the information provided.
Any information contained in the present document may, after the date of its preparation, be subject to modification or updating.