People Globesity
Obesity is a complex global issue
Notwithstanding government efforts, the incidence and associated costs of obesity continue to increase. At present, there is considerable excitement in the pharma world regarding the spread of GLP-1 drugs to contrast what it is now recognized as a disease. As discussed below, a more widespread usage of weight loss drugs could have a material impact on some of EU and US food manufacturers.
The World Obesity Federation estimates that close to 1.2bn people (17% of the world's population) will be obese in 2025 and that will likely increase to around 1.9bn (24% of the world's population) by 2035.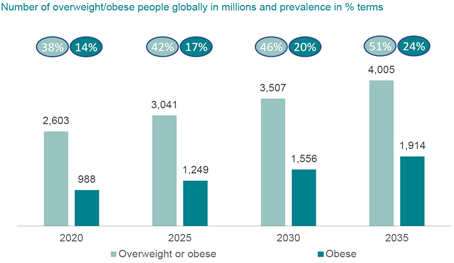 Source: BNP Paribas Exane, World Obesity Federation
The Americas lead in the prevalence of obesity, followed by Europe and North Africa/Middle East. Notably, BNP Paribas Exane reports, in the US c.73% of the population is now overweight or obese.

Source: BNP Paribas Exane, World Obesity Federation
The many health implications of obesity that affect, among the others the Cardiovascular system (Hypertension, Coronary artery disease, Heart failure, Stroke, Venous thromboembolism), the Respiratory system (Obstructive sleep apnoea), Endocrinology (Type II diabetes mellitus, Metabolic syndrome, Vitamin D deficiency), Neurology, the Musculoskeletal system, the Gastrointestinal tract, the Reproductive system, Psychiatric disorders, Infections, Neoplama (various cancers), determine a massive burden for the public expenditure.
The World Obesity Federation estimates overweight and obesity currently cost the world around 2.5% of GDP and that this cost will rise to 2.9% by 2035.

Source: BNP Paribas Exane, World Obesity Federation
GLP-1 Euphoria
The recent entry of weight loss drugs in the US market is however set to transform the way obesity is treated. In particular, weight loss drugs launched in the US within the past couple of years are growing exponentially, fueled by their weight loss benefits, rapid expansion in reimbursement and social media activity.

According to "An Overweight Report", a paper by BNP Paribas Exane, amongst these drugs, Semaglutide has been highly effective to treat type 2 diabetes for more than 15 years, but its application to treat obesity is a more recent discovery.

Semaglutide, the report continues, is part of the medication class called glucagon-like peptide-1 receptor (GLP-1) agonists. It mimics the GLP-1 hormone that is released in response to eating, this hormone signals the body to produce more insulin, which in turn lowers the patient's blood sugar.
When used in higher doses, semaglutide interacts with the brain and triggers a feeling of fullness (i.e. it effectively serves to suppress appetite)1 .

There is evidence that since starting the weight loss drug, consumers are inclined to make healthier choices and patients report a significant change in their exposure to fast food and pizza restaurants.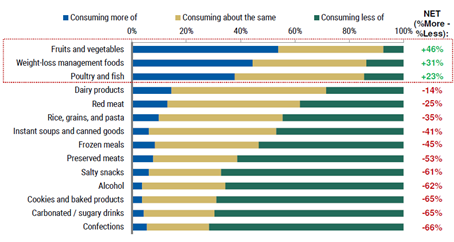 Source: AlphaWise, Morgan Stanley Research

Source: AlphaWise, Morgan Stanley Research
The treatment also seems to have triggered changes in lifestyles: evidence shows that patients under obesity medication report cutting back on their daily meals & snacks after starting the drug therapy, with a significant 20-30% decline in daily calories intake.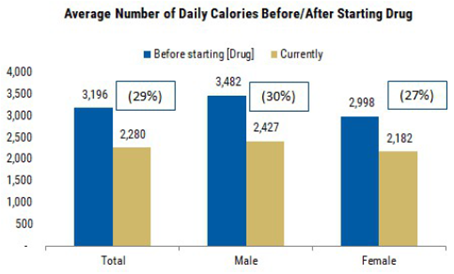 Source: AlphaWise, Morgan Stanley Research

Source: AlphaWise, Morgan Stanley Research
Companies adapting to consumer behavior
While little impact is likely to be noticed in the near term, with drug adoption gradually growing over time, things might be different in the long-term when a widespread impact may occur. Companies in the EU and in the US Food Manufacturing and Ingredients have exposure to categories impacted by AOM (anti-obesity medication) and there is an expectation that these companies may need to adapt to changes in consumer behavior through innovation and portfolio reshaping efforts.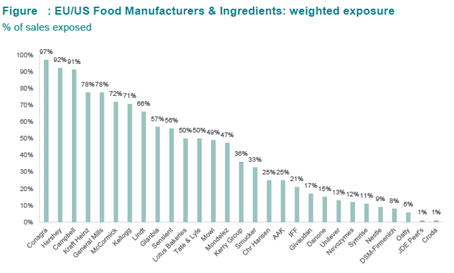 1. "An Overweight Report", FOOD MANUFACTURING /INGREDIENTS, BNP Paribas Exane Paper, 7 August 2023
Disclaimer:
Nothing in this document is intended as investment research or as a marketing communication, nor as a recommendation or suggestion, express or implied, with respect to an investment strategy concerning the financial instruments managed or issued by Eurizon Capital SGR S.p.A.. Neither is this document a solicitation or offer, investment, legal, tax or other advice.
The opinions, forecasts or estimates contained herein are made with reference only to the date of preparation, and there can be no assurance that results or any future events will be consistent with the opinions, forecasts or estimates contained herein. The information provided and opinions contained are based on sources believed to be reliable and in good faith. However, no representation or warranty, express or implied, is made by Eurizon Capital SGR S.p.A. as to the accuracy, completeness or fairness of the information provided.
Any information contained in the present document may, after the date of its preparation, be subject to modification or updating.